Branding the Salish Sea
to Increase Tourism Revenue
Approximately 30 billion dollars were spent by tourists visiting Washington State and British Columbia in 2011. The vast majority of spending occurred within the cities, towns and villages along the Salish Sea.
The name "Salish Sea" is an emerging idea. However, people don't yet think about traveling to the "Salish Sea". Rather, they currently just choose specific city destinations like "Seattle", "Vancouver" or "Victoria" because the region lacks widely recognized geographical identification.
While inspiring, single city destinations have limited market reach and a high degree of competition with other individual city destinations around the world. Our plan is to promote a unified regional name to inspire visitors. In other words:
"Give it name recognition, and people will come visit."
The Salish Sea region has been missing out on attracting visitors who are seeking a grand regional theme experience. The most popular travel destinations around the world are represented by a single word or phrase–this can make an enormous difference when it comes to communicating a value proposition to potential visitors.
The Pacific Northwest region has been suffering from an identity crisis with its fuzzy borders and enormous spectrum of diverse and competing themes that further blur a comprehensive, unilateral brand vision. Depending on who you talk to, the "Pacific Northwest" can include as much as Washington, Oregon, Idaho, Montana, British Columbia and Alberta–or as little as just Western Washington.
The Salish Sea Tourism and Economic Development Association is tasked with building awareness for the Salish Sea region as a singular world-class travel destination. By combining the many attractive elements that make up the essence embodied in the coastal regions of the Pacific Northwest, we can achieve a unified vision that can be easily shared. Through our branded "Go Salish Sea" campaign, our goal is to increase tourist visitation by 5% or more through promoting a brand name association to the world tourism markets.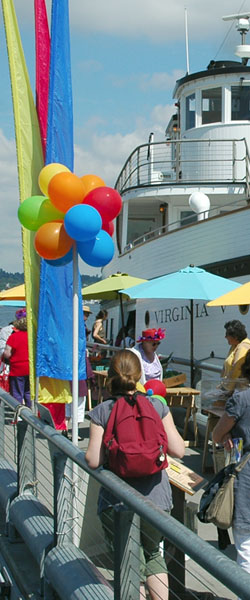 A concise, compelling and synchronous vision can increase market penetration by 5% or more.
A common theme exists on both sides of the US-Canadian border. Over one hundred maritime municipalities share the same vision to utilize their water-centric attractions to draw more visitors.
Washington State and British Columbia rely heavily on tourism dollars. Washington State attributed 1.8 billion in tax revenue to tourism in 2011. A 5% increase would generate an additional 80 million dollars in tax revenues for Washington State authorities.