Why is an Association Needed?
"Salish Sea" is a newly rediscovered name that has been lost since early times in the Pacific Northwest. The international commitment by the US and Canadian governments to recognize this important body of water as a singular geographic element could not have come at a better time for tourism related organizations along the shores of the Salish Sea. Without this strategic move, the growth rate of tourism on both sides of the border could wain from global economic softening.
Destination marketing efforts will create a seamless conceptual vision of the Salish Sea in the minds of travelers. The Salish Sea region is greater than the sum of its jurisdictional parts when a simple compelling message is delivered.
An Identity Crisis
Most people consider the name "Puget Sound" to represent the name of the land region of Western Washington between the Cascades and Olympic Mountains. In a recent informal survey, few local residents knew the boundaries of Puget Sound or even that it was a name given to a specific body of water. Even fewer knew where the San Juan Islands were and almost none had heard of the Gulf Islands, Georgia Straits or Desolation Sound.
Get out of the region, and most just call it the "Northwest" if they don't refer to "Seattle" or "Vancouver" first. How can the tourism industry expect new visitors at comparable rates as other famously named destinations if they can't easily refer to the region by a single name? The answer is that they can't.
The usage of "branded" terms in modern travel media has left the Salish Sea region with an identity crisis. The Salish Sea Tourism and Economic Development Associations was established as a destination marketing organization (DMO) to specifically address this crisis and ultimately increase visitor revenue for tourism related organizations throughout the region.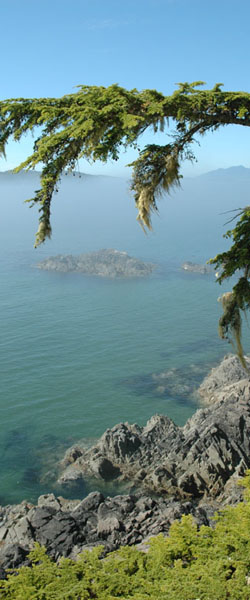 Collectively, the Salish Sea is perhaps one of the richest, most diverse and seasonally temperate areas on earth. It's rugged terrain, dense green-blue ecology and sophisticated fusion of culture exemplifies a paramount desire for humans today.
For those who have never been to this region, finding the words and conveying a comprehensive visual concept for a newly defined destination on the world stage is difficult at best. This can only be successfully accomplished with purposeful intent rather than to await a media adoption by happenstance over time.