Salish Sea Unites Two Nations
In 2010, the term "Salish Sea" began official use on mariner charts. This collaborative action between sanctioned United States and Canadian government naming boards creates an emerging economic opportunity that will unite and strengthen communities along the shores of Washington and British Columbia.
The Pacific Northwest has an abundance of overlapping features and desirable destinations that create a fuzzy concept of what the "Pacific Northwest" offers to travelers. The lack of clear definition leaves a myriad of competing territorial enticements. Seattle, Vancouver, Washington State, British Columbia, Vancouver Island, Olympic Peninsula, San Juan Islands, and Gulf Islands are all amazingly wonderful places. However, they are each on their own relatively minor in comparison with other distinctively promoted world-renowned destinations. Collectively, the Salish Sea offers a compelling comprehensive draw with a cohesive underlying water-centric theme that can be translated into effectively marketable visual elements.
We believe that the Salish Sea is more than the sum of its parts.
The Bahamas, Chesapeake, Amalfi Coast, Baltic, and Adriatic are just a few of many examples of regions that are branded with a singular identity. On the West Coast, travel destinations like Southeast Alaska, Sea of Cortez, and Hawaiian Islands posses a singular master identity. Even though these regions contain multiple cultural elements, in each case, a collective "brand" name conjures up thematically congruent images in the minds of travelers. Our work is dedicated to solidifying the cognitive appeal of the Salish Sea by collectively developing a uniquely intrinsic conceptual vision--one that incorporates the common elements shared among the water-centric communities along its shores.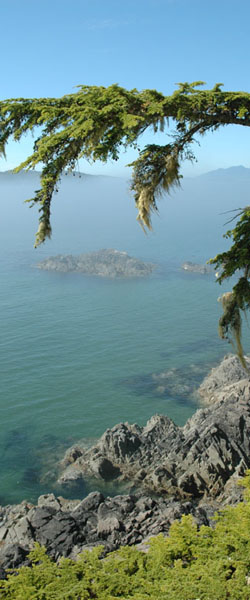 The words Salish Sea were allegedly first used by early explorers to describe a majestic inland sea spanning a distance of some 300 miles with countless timber laden islands resting in the emerald shadows of towering glacial carved peaks. Its only inhabitants were native tribes who transited the cool clear waters in sculptured cedar canoes. The Salish people residing in the central region of the sea were the first humans to be known by early explorers.
A singular reference for the region was perhaps lost when the international boundary divided the sea between the two nations. The lack of a central reference describing this body of water has resulted in a conceptual identity crisis for the region with regard to modern tourism discussions.
There is a common theme predominant throughout the region that perhaps could best be encapsulated in the philosophies of the region's first people.