About
The Salish Sea Tourism & Economic Development Association is a member supported independent destination marketing organization (DMO) dedicated to building awareness for the recent official naming of the Pacific Northwest inland waters between the United States and Canada, hereinafter known as the "Salish Sea".
We focus on marketing to those who live in the nearby major metropolitan areas as well as to those who travel from far away. We incubate unique promotional ideas and assist in the development of targeted communication campaigns for tourism supported organizations along the shores of the Salish Sea--offering business development, branding, marketing channel communication and creative content services to our members.
Our primary objective is to enhance the intrinsic attraction of the Salish Sea region in both the United States and Canada to the degree that it may be recognized as a single destination. We accomplish this by partnering and building organizations that are influenced by the base elements of water, cultural heritage and local food.
Our vision is that the Salish Sea becomes a world-class destination synonymous with other highly desirable maritime regions including the Amalfi Coast, South Sea Islands, Riviera, Adriatic Sea, Caribbean, British Isles, Sea of Cortez, South East Alaska, etc. We believe that a simple cohesive story is greater than the sum of it's parts.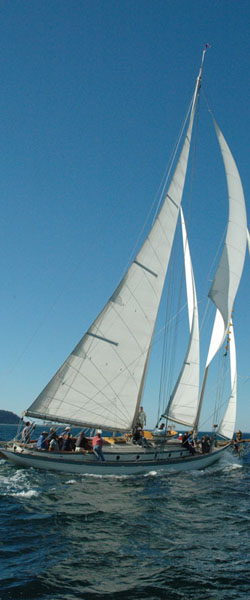 How did the name "Salish Sea" originate? In 2009, the US and Canadian Geographical Naming Boards based in Washington State and British Columbia jointly elected to approve the name for official use on maritime charts and maps. Scientists have referred to the greater Salish Sea region as the Georgia Basin, but there was no singular name used to reference these Pacific Northwest inland waters after the US-Canadian Boundary Line was drawn on the 45th Parallel in 1783. The unifying name honors the regions first indigenous people known as the Coast Salish.