Where is the Salish Sea?
The Salish Sea is located between the Northwest corner of the United States and Southwest corner of Canada. Spanning some 300 miles (480 kilometers), it is an inland saltwater sea that is connected to the Pacific Ocean by a large passage in the middle and several small passages to the north. Its glacial carved shores are comprised of many small inlets, islands, river deltas and fjords. The sea is protected from the relentless ocean swells by the Olympic Peninsula in Washington State and Vancouver Island in the Canadian provence of British Columbia.
Until recently, the area was only referred by its major parts: Puget Sound, Hood Canal, Georgia Straits, Straits of Juan de Fuca, San Juan Islands, Gulf Islands, and Desolation Sound. To make things more confusing, the region is also referred to as part of the Inside Passage to Alaska.
Salish Sea Fun Facts:
- The Salish Sea has one of the most diversified eco systems with one of the broadest ranges of aquatic species in the world.
- The first European to explore the Salish Sea was Captain George Vancouver in 1792.
- The name "Salish" was chosen to honor the regions first human inhabitants, the Coast Salish people.
- The Salish Sea has a shoreline length of 4,641 miles (7,470 kilometers).
- The number of Islands in the Salish Sea is 419 (not including exposed reefs and shoals).
* The combined land area of the Salish Sea islands is 1,413 square miles (3,660 square kilometers).
- Water surface area of the Salish Sea is 6,534 square miles (16,925 square kilometers).
- The human population around the Salish Sea is approximately eight Million.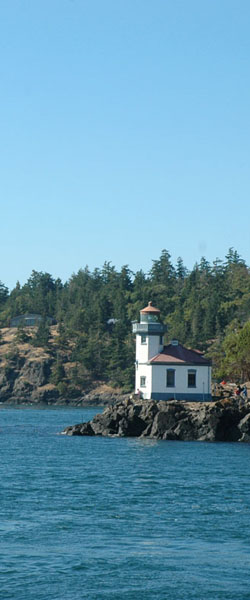 Why didn't the Salish Sea have a name until now? It is a very odd situation that this unique body of water has gone unnamed for so long. From maps and satellite views it seems so obvious that a distinctive geological feature is present, yet until recently, no chart or map has identified this inland sea in a singular fashion.
Perhaps it was due to its relatively recent discovery in comparison to many other places on earth. Or perhaps it was that the sea was discovered during a time when explorers were hoping to find a Northern trade route back to Europe? During the early years the region was thought to be the terminous of the Northwest Passage.